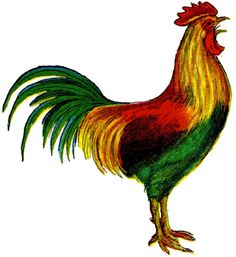 The Rooster Crows
CORRECTION! CORRECTION!
The Springfield Area Emmaus 25th Anniversary Celebration is to begin with the March Gathering on March 13th at 7:00 PM. We will be honoring the Founding Members of our Community, all prior Community Lay Directors and Community Spiritual Directors.
Excitement and Anticipation is growing!!!
Please stay afterwards for fellowship and bring a dish to share. High Street United Methodist Church has handicap accessible parking and a ramp on the eastern side of the church and there is a chair lift to access the dining room. Invite your share group or someone you have sponsored. Letís pack the sanctuary like it is candlelight!
The following is a list of reunions that will be taking place during our yearlong celebration!
April 10: Womenís Walks #1-10 and Menís Walks #1-5
May 15: Womenís Walks #11-20 and Menís Walks #6-10
June 12: Womenís Walks #21-30 and Menís Walks #11-15
July 10: Womenís Walks #31-40 and Menís Walks #16-20
August 14: Womenís Walks #41-50 and Menís Walks #21-25
September 11: Womenís Walks #51-60 and Menís Walks #26-30
October 9: Womenís Walks #61-70 and Menís Walks #31-40
November 13: Womenís Walk #71 and Menís Walks #41-47
Women's Walk reunions will meet in the conference room and Men's Walk
Reunions will meet downstairs. If you have any questions or concerns please contact:
Judy Spanel at jspanel@att.net or937.631.3056 or
Alison Nosker at aen1979@sbcglobal.net or 937.673.4587.
Please write Emmaus in the subject line of an email.
Were you on A Springfield Area Emmaus Menís or Womenís Walk 1 through 10. Come at 6 pm on March 13. Then stay for the Gathering. If you know someone that was on team or pilgrim ask them to come and join the reunion.
There will be no walk till at least June we need Applications for men and women to hold a walk
Board Meets at 5:30 pm on 2nd Sunday of the month prior to Gatherings which are at 7:00 pm
March 13 April 10
May 15 June 12
July 10 August 14
September 11 October 9
November 13 December 11
Calling all share groups or anyone consider giving a donation towards the red agape cups that are given to each pilgrim and team member on each walk. The order is in and it is a great way to give agape for several walks. As we had to order several. Send checks to Springfield Area Emmaus, 230 E. High St., Springfield, OH 45505 with note that funds are for the Red Agape cups.
Springfield Area Emmaus Community
Newsletter Request
Name Walk#
Mailing Address
City State Zip
Email (optional)
If you would like to have the Newsletter mailed please send your $10 fee along with this or copy of requested information to Springfield Area Emmaus, 230 E. High St., Springfield, OH 45505
Springfield Area Emmaus
230 E. High Street
Springfield, OH 45505